Make It a Fun, Halloween Monster Movie Night and Complete Your Hotel Transylvania Movie Collection
Includes a Monster Dance Party Dance Along, Three All-New Scary-Oke Sing Alongs, a Vampire Make-Over Tutorial,
Two Mini Movies and More!
Available on Digital HD September 25 and
On Blu-ray™ Combo Pack & DVD on October 9th!
My kids have been so excited to see Hotel Transylvania 3 since they saw we could pre order it on direct tv. We have seen the whole series and it is one of the kids dvd series I truly enjoy myself. My daughter and two sons all can agree and enjoy watching Transylvania together. With Halloween coming we wanted to let you know you could get Hotel Transylvania tomorrow. In celebration of Halloween we want to share this awesome Transylvania inspired recipe and Hotel Transylvania 3 DVD and Hotel Transylvania 3 Trick or Treat Pillowcase giveaway.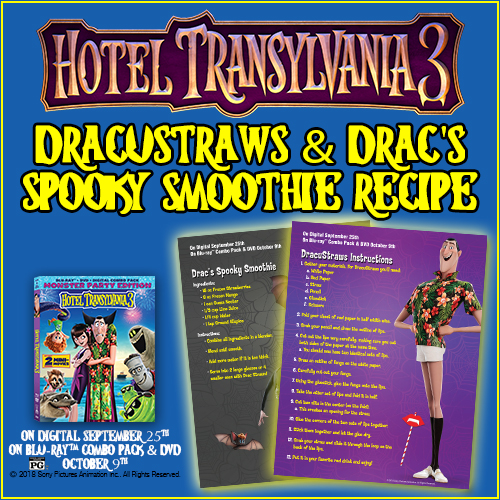 WIN HOTEL TRANSYLVANIA 3 DVD AND HOTEL TRANSYLVANIA 3 TRICK OR TREAT PILLOWCASE
ENTER BELOW