Free For All received a sample to facilitate this review all opinions are 100 percent my own!
Fizzbutter Bath Bakery
is my absolute favorite bath fizzie factory! I love their unique treats and am so glad to be able to bring you their latest edition Bath Bomb Cupcakes! I have previously reviewed Fizzbutter's amazing 8oz Bath Bombs check out the review
here;
these are the biggest bath bombs I have ever seen. Still Fizzbutter manages to keep their prices so affordable to purchase a bath bomb check out their huge selection
here
prices start as low as $3.99 for bath bombs and $3.89 for bath cupcakes.
The Bath Bomb Cupcakes I tried were Lavender Love and Sweet Love you can purchase Bath Bomb Cupcakes
here
starting at $3.79. What is a bath bomb cupcake you ask? Bath Bomb Cupcakes are 4.5 ounces of fizzie goodness. Each cupcake is 100 percent handmade and topped with Fizzbutter's secret one of a kind bath frosting. The bath frosting makes a perfect soap or lotion to shave with and eves skin so smooth.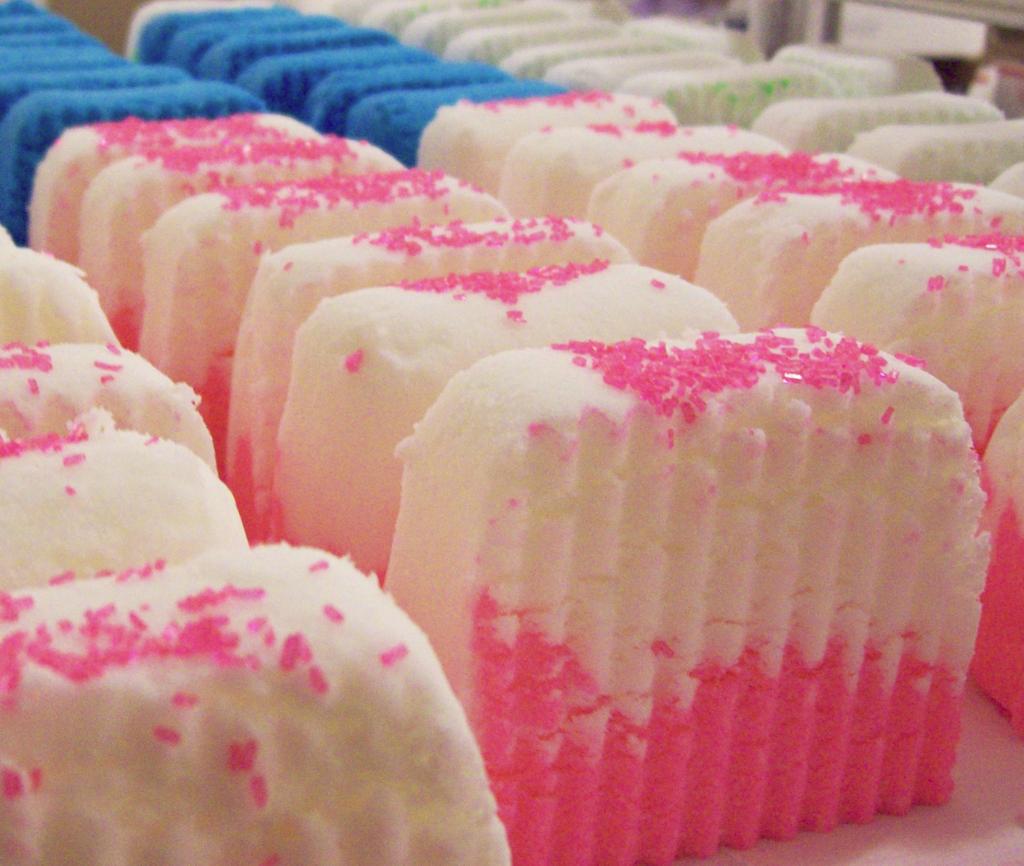 Each Bath Bomb Cupcake is a little different that is what makes them so special and great. One of my favorite things about the Bath Bomb Cupcakes is they are so large that the big cupcake mommy uses and I give the kids the little hearts on the top so they also have their own fizzies. They love it!
Lavender Love Bath Bomb Cupcake
The Lavender Love Cupcake consists of their best-selling Lavender Vanilla fragrance. The bath fizz is heart shaped in dark lavender. The topping has lavender frosting with lavender hand-made hearts dusted with shimmer. Ingredients include Baking Soda, Citric Acid, Sodium Lauryl Sulfoacetate (plant derived), Lavender Essential Oil, powdered sugar, corn starch, kaolin clay, color. Purchase your
Lavender Love Cupcake here
and treat yourself or someone special to bath time bliss!
Sweet Love Bath Bomb Cupcake
Sweet Love is a fragrance that is sweet and fruity with citrus and peach. The bath fizz is heart shaped in bright mango. The topping is butter colored and finished with two hand-made, pink hearts dusted with shimmer. The gold shimmer is so pretty and makes you feel like a princess.
This amazing frosting actually foams and fizzes out creamy bubbles as it floats and moves around your bath. These cupcakes are exceptionally fun and beautiful in the bath water! Ingredients used are baking soda, Citric Acid, Sodium Lauryl Sulfoacetate (plant derived), fragrance, powdered sugar, corn starch, kaolin clay, color. Purchase your own Sweet Love Bath Bomb Cupcake here for only $3.79.
See the video here for more on Bath Bomb Cupcakes
Lastly we tried the Mango Coconut Bubble Cake. I always think Fizzbutter can't beat their last product but they always do. I loved the Mango Coconut Bubble Cake I used it slightly different than directed though. Bubble Cakes put me in the mind of a bath bar and I crumbled half and let that half dissolve in the water. With the other half I actually used it to scrub my skin. A little flakes off here and there but Bubble Cakes make the perfect exfoliator and leave your skin feeling soft, great smelling, refreshed and free of dead skin (if you use them to exfoliate as I did).
Mango Coconut Bubble Cake
This wonderful Mango Coconut bubble cake has the scent of mango & coconut that will remind you of a day at the beach. Very tropical and sexy.
To use bubble cakes you crumble them under running water, sit back, and enjoy the most luxurious bubble bath of your lifetime. These make bubbles that are long-lasting, creamy, and ultra-luxurious. Bubble Cakes are 3 to 4 ounces and are perfect for one or two baths. Ingredients used are Sodium Lauryl Sulfoacetate, Baking Soda, Vegetable Glycerine, Tartaric Acid, Fragrance, Color, Cocamidopropyl Betaine. To purchase your own Mango Coconut Bubble Cake for only $4.25 just click here!
My Review Sampler!
To order from Fizzbutter Bath Bakery for yourself or your sweetheart go to

Fizz Butter Bath Bakery

. Make sure you are following Fizzbutter Bath Bombs on F
acebook
they have a great weekly giveaway! To connect further with Fizz Butter Bath Bakery on social media follow the links below: