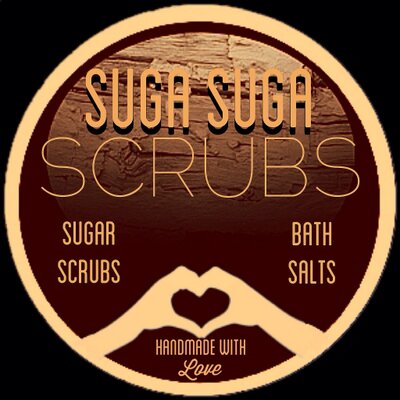 With summer in full swing my lips and skin seem so dry. I love a good Lip Butter to moisten my lips and a nice Sugar Scrub to exfoliate the dead skin.
Suga Suga Scrub
has just what you need to pamper yourself with! I tried the Lemon Sugar Scrub and was blown away it has little bits of lemon which I loved. This is a real lemon sugar scrub not a scented deal you really know you are using real lemon and the small with the lemon and sugar mix is delightful. Their is just the right amount of exfoliation and oil to refresh your skin. I loved the little wooden spoon that comes with the sugar scrub and the bath salt for scooping. Next, I tried the Candy Lip Butter; the scent was to die for. It was such a nice sweet candy scent and the lip butter wasn't greasy at all just moisturizing. I saved the best for last! Last I tried the Coconut Bath Salt; Coconut is my favorite scent. Once again let me reintegrate that the scents smell natural and not like the flavor that most companies use. The Coconut Bath Salt smelled like a fresh coconut and let my water smelling Coconut Clean!
My favorite thing about Suga Suga Scrub is the look and feel of her products and site. Each product you can tell is made with care the brown ribbon ties, rustic stickers and spoons leave you with a down home country feel. Being from KY I love handmade goodies and wish I was talented enough to craft these amazing products! I was so amazed with Suga Suga Scrub that I wanted t add them to our Summer Must Haves as summer dry skin is an issue for a lot of us.
Free For All received a sample to facilitate this review. All opinions are 100 percent my own no financial compensation was received.